Coverall UNITECH SAFE+
For the best protection against flash fire and electric arc. It's cooler, dryer and more confortable. Unitech now offer to lease new most technically coveralls for the Controlled Area.
Heat-resistant and flame retardant this coverall are soft and breathable, and have superior properties in moisture control.  The user feels cooler, drier and more comfortable.
Moreover, our new UNITECH SAFE+ is ecological! Composed of intrinsic biological cellulose fibers, which reduces the waste of the manufacturing process compared to cotton or viscose.
The coverall UNITECH SAFE+ is designed from a very high-tech fabric it has in particular incorporated Antistatic property that protects against the risk of explosion. The fabric is continuously discharged
into the surrounding air.
The UNITECH SAFE+ complies with the standards of intervention in controlled area in EDF NPP.  UNITECH will be able to provide these coveralls, to ensure the transport and also the washing
process.
This solution allows the plant to avoid the purchase of additional coveralls in case of exceptional needs, which allows to make significant savings.
The sizes are identifiable by the colour of the neckline.
It meets many specifications for use in an industrial environment.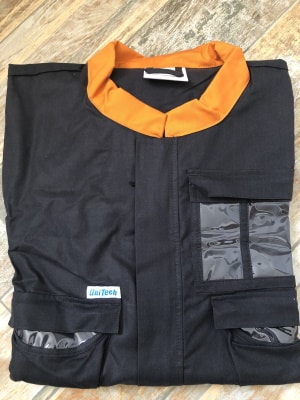 Specifications :
sizes M to 5XL
Certifications :
Industrial risks of flammability and sources of heat EN ISO 11612 A1,A2,B1,C1,E2,F1: 2008 (A1 + A2 = 100 x ISO 15797 – 75 ˚C) NFPA 2112: 2012
Fires of natural spaces
EN 15614: 2007
Welding
EN ISO 11611, catégorie 1: 2007
Electric arc EN IEC 61482-1-2, catégorie 1: 2008 ASTM F1959 – ATPV 8,0 cal/cm2
Antistatic properties for explosion risk
EN 1149-5 : 2008, EN 1149-3: 2004
Liquid chemical
EN 13034: 2005 + A1: 2009