Population Monitoring for Radiological Emergency Response
Mobile Contamination Characterization Center (MC³)
Speed up and optimize population monitoring and radiological decontamination using UniTech's patented Mobile Contamination Characterization Center (MC3) technology.
In a nuclear terrorist scenario, there could be tens to hundreds of thousands of individuals evacuating the event epicenter.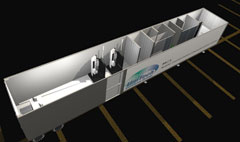 Emergency responders want the evacuation to minimize the spread of contamination, demanding a quarantined perimeter
Population must be individually monitored for radiological contamination at the perimeter then channeled appropriately for action
Delays increase the amount of time radioactive material remains on people
Danger of public hysteria and panic rises as the situation continues unresolved
Armed only with conventional instrumentation, today's radiological emergency responders would be faced with a daunting or impossible task to monitor, sort and clear population in response to terrorist scenarios involving nuclear materials.
UniTech's Mobile Contamination Characterization Center (MC³) provides the efficient public monitoring and decontamination throughput needed in emergency situations.
Patent No. US 8,637,842 B2
If this is of interest to your business, please contact your relevant Technical account manager.
Watch our brief video to learn more: