During a recent visit to Torness Power Station we were asked if we could fabricate a Bespoke Boot Barrier which was used on the sites Pile Cap which incorporated a base with a Tacky Mat and fixed wheels at a 45 degrees angle for ease of movement.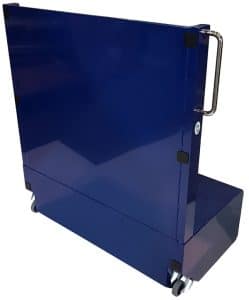 As the original was mostly manufactured with timber we were asked to eliminate any fire hazard materials within the main structure, the structure is manufactured with 3mm Aluminium Thick Plate and Powder Coated to agreed RAL colour to a thickness of 72-75µm.
Working with our manufacturer Signiatec the Boot Barriers have now been delivered to the clients site and have been greatly received.