Magnox, the company responsible for managing operations at ten of the UK's first generation of nuclear power stations, has signed a £38million contract for laundry and decontamination services.
The seven-year contract, with Unitech Services Group and Berendsen UK Ltd (workwear), covers a range of laundry and decontamination services, including: the laundry of contaminated and non-contaminated clothing and respirators, decontamination of scaffolding and other materials and both the lease and laundry of personal protective equipment.
Every year, Magnox sends around five million items for laundry or decontamination. Bringing this work under one long-term contract with two suppliers gives the opportunity of delivering significant savings. The length of the contract gives the supply chain a stable platform upon which to invest in the delivery of the service, which will reinforce the capability of the supply chain and support Magnox's decommissioning and hazard reduction work.
The contract supports Magnox's commitment to the waste hierarchy by reusing equipment and reducing the amount of waste sent for disposal as contaminated or low level radioactive waste.
Steve Watson, procurement manager, said: "This is the first time the nuclear industry has grouped this type of work together in this way. There are lots of synergies in the areas of work and, by combining them under a single contract, we have been able to go to the market and secure diversification of the supply chain and increased value for our customer – the Nuclear Decommissioning Authority (NDA) – and ultimately the UK taxpayer."
The contract will be placed as part of the NDA's collaborative procurement programme and the services will be available to other organisations in the NDA estate. These types of collaborative procurements offer a range of benefits, including standardisation and aggregation of services.
Ron Gorham, Head of Supply Chain Optimisation at the Nuclear Decommissioning Authority, added: "This contract is great news for Magnox and the wider nuclear estate. The supply chain is critical to the NDA delivering its programme and these two suppliers offer a great deal of innovation and expertise."
Dan Gould
Communications Manager Magnox Ltd
Tel: 01928 737323 email: dan.gould@magnoxsites.com
www.twitter.com/magnoxsites
Notes to editors:
Magnox Ltd is the management and operations contractor for the Magnox sites in the UK. Under contract to the owner, the Nuclear Decommissioning Authority, the company is responsible for electricity generation at Wylfa and Maentwrog, defuelling at Oldbury and the decommissioning of Chapelcross, Dungeness A, Sizewell A Hunterston A, Berkeley, Hinkley Point A, Bradwell and Trawsfynydd. The work at Bradwell and Trawsfynydd is being accelerated to support a move to an earlier than planned care and maintenance date.
Site licence companies, such as Magnox, operate the NDA's sites under contract. They are responsible for day-to-day operations and the delivery of site programmes.
Connect and Collaborate at the NDA Estate Supply Chain event 2014 Thursday 6th November, Event City Manchester, 8.30am – 4.30pm www.decommsupplyevent.co.uk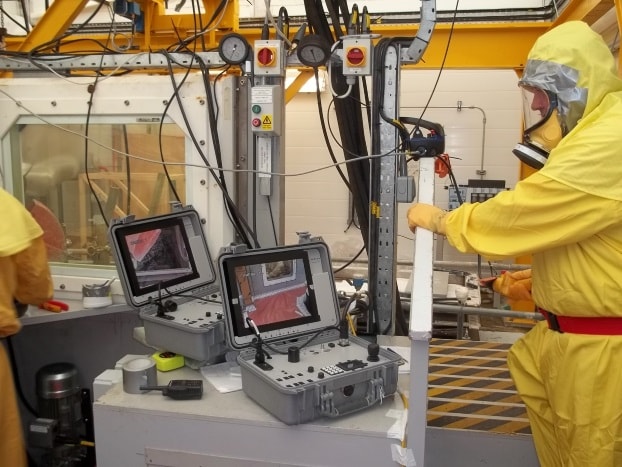 "Every year, Magnox sends around five million items for laundry or decontamination"