The European Forum to discuss Nuclear Technology Issues, Opportunities & Challenges
11 – 14 May 2014, Marseille, France
Unitech Services Group will be hosting a joint exhibit at booth 38/39 during the European Nuclear Society Conference 2014 (ENC) on May 11-14 in Marseille, France. The booth will be attended by UniTech representatives over the three day event from Germany, France, Sweden and the UK offering sample of PPE and services.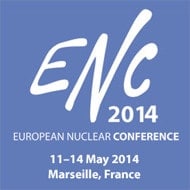 Mark your diary for one of the biggest events on the international nuclear industry's calendar, the prestigious European Nuclear Conference (ENC). It will be held in May 2014 in Marseille, France.

The European Nuclear Conference (ENC) is THE international get-together of nuclear science and industry in Europe. This European Nuclear Society (ENS) event has a multidisciplinary approach, looking at nuclear science and technology in energy production, non-power industrial and life science applications.
ENC 2014 will be a unique networking event for scientists, nuclear industry representatives and policy makers. who can consider and discuss ideas and innovations that will drive the technological developments of the future.
The European Nuclear Conference is known for the high standard of papers presented. Key themes of ENC 2014 will include state-of-the-art research and development in areas such as:
Plant operations and safety
Education, training and knowledge management
The fuel cycle
Reactor technologies
New Build
End of Use management
Life science applications
Non-power applications
Nuclear in the civil society
The ENC 2014 conference programme will evolve around a number of plenary keynote sessions, panel debates and highly focused topical tracks.
The conference will also be a showcase of products and services from some of the world's leading nuclear industry and research organisations.